**Ten-8 Fire Equipment will have the AeroClave decontamination system on display at Fire Rescue East Conference on our Osage Ambulance demo. Find out more information on the conference here!**
One of the main concerns in the emergency vehicle industry is keeping the work stations and environment clean at all times. Manually decontaminating your ambulance after every run costs time, money, and could compromise the safety of the patients and staff if not done correctly. That is why products like AeroClave's automated, no-touch decontamination systems are becoming so popular.
These decontamination systems were developed in tandem with local fire and EMS organizations so as to keep the end-user—like firefighters and paramedics—in mind. They are designed to be simple, quick, effective, and, most importantly, safe. Perfect for routine decontamination of vehicles, facilities, and equipment, the AeroClave systems are also portable, so they can be run at the station or out in the field.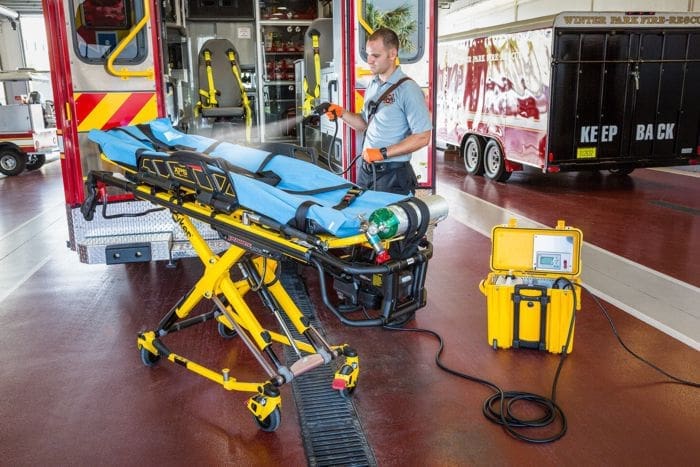 Some of the AeroClave decontamination systems include:
AeroClave Room Decontamination System (RDS 3110): This system is the latest in room decontamination technology and uses an EPA approved disinfectant to decontaminate rooms, vehicles, and equipment with ease.
AeroClave Ambulance Decontamination System (ADS): This is the world's first decontamination system directly incorporated into a vehicle. This breakthrough technology assists first responders with efficiently decontaminating their vehicles and equipment after each patient transport. The process is done within 20 minutes for maximum efficiency. That's a worthwhile wait to protect your crew and patients against MRSA, HIV-1, H1N1, Hepatitis B, Hepatitis C and more.
AeroClave Distribution Port Technology (ADP): This new port technology provides an easy plug-and-play method to connect with a wide range of accessories for delivering the disinfectant. The Vehicle Port option is designed specifically to install in fire, rescue, or ambulance vehicles. It includes an 8' hose that permanently connects the system to the vehicle and is stored onboard at all times. With this Port, the vehicle is always ready when decontamination is required, on or off-scene.
AeroClave Portable Applicator (APA): This handheld extension increases the flexibility of the Room Decontamination System by allowing for use as a hand application or remote head. This is ideal for exterior settings, equipment, and quick spot-treatment on high contact surfaces.
The AeroClave process offers consistent, reliable delivery of the right amount of disinfectant, decontaminating to OSHA and NFPA specifications every time. Providing speed, safety, efficiency and adaptability, the AeroClave decontamination systems are ideal for any emergency vehicle or facility.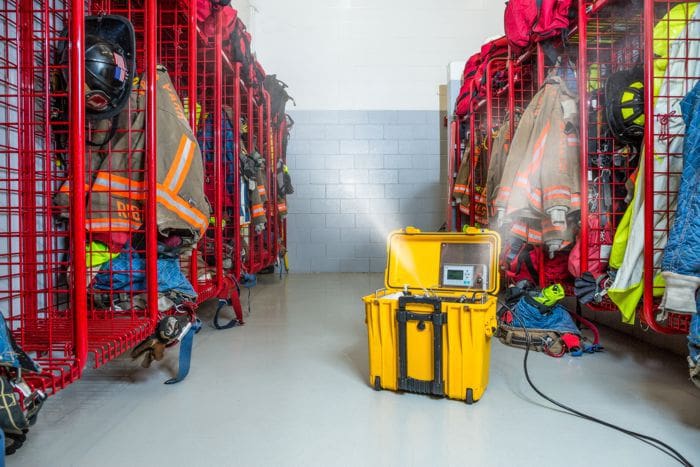 Ten-8 Fire Equipment is a certified seller of Aeroclave disinfectant systems and many other fire equipment products. Learn more about the fire equipment we sell or contact us today with any questions.
Social Share