The City of Jacksonville, Florida, recently received the last of their eight new Enforcer Pumpers purchased from Ten-8 Fire and Safety, LLC sales representative, Robert Boggus. The Pierce Enforcer pumpers purchased by the City of Jacksonville feature a Cummins ISL9 400 hp engine, 70" cab, and seating for five firefighters. The pumpers also feature a 500-gallon water tank, a Waterous 1500 GPM two-stage pump, and 161" full height compartments on both sides that are 18" deep.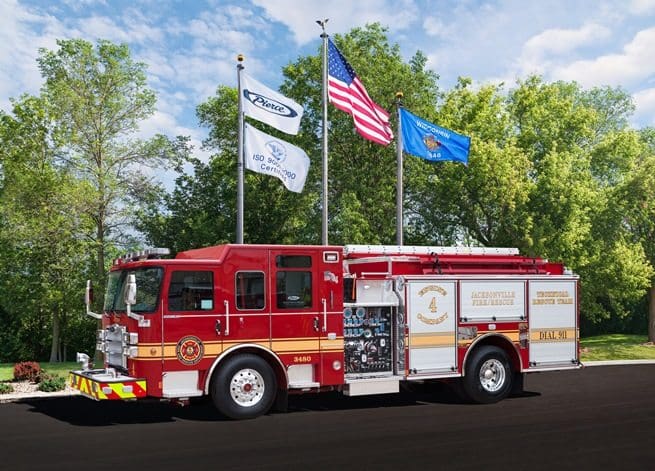 The City purchased an additional 24 Enforcer Pumpers, which are expected to be delivered throughout the Summer and Fall of 2015. Among the 24 pumpers, several different configurations were developed to fit their needs, including squad units and hazmat units.
The City's latest purchase received by Ten-8 Fire and Safety, LLC is for two (2) Enforcer 75' Aerial Ladders, two (2) Enforcer 105' Aerial Ladders, two (2) Enforcer 100' Aerial Tillers, one (1) Enforcer Heavy Duty Rescue, and one (1) Elliptical Tanker on a Freightliner chassis.
For 30 years, Ten-8 Fire and Safety has helped customers throughout Florida and Georgia maintain and repair their fire apparatus and emergency vehicles. Overtime, we have grown to five fully staffed service locations and fourteen mobile service technicians. We strive to make it easy and convenient for our customers to get the service and support they need by doing the following:
Servicing all makes and models of fire trucks and ambulances
Repairing accident damaged apparatus and mechanical failures
Offering complete paint, body, and refurbishment services
Running an authorized warranty center for most products found on a fire truck
Employing a large, knowledgeable staff that will treat you with respect
Following NFPA standards to ensure compliance and safety
24 hour emergency phone service for the most severe issues
We are delighted to work with the City of Jacksonville to deliver and service this fleet of Pierce vehicles!
Social Share