On September 17th, 2015, Pierce Manufacturing, Inc. congratulated Jacksonville Fire and Rescue Department on their 100th Pierce Apparatus. The Fire Department was in Appleton, WI inspecting some of the Enforcer Pumpers on their current order of 24 Enforcer Pumpers in total. They will be back at Pierce with their Ten-8 Fire Equipment sales rep, Robert Boggus, in a few months and early next year to inspect two (2) 75′ Aerial Ladders, (2) 100′ Tillers, (2) 105′ Aerial Ladders, a Heavy Duty Rescue, and an Elliptical Tanker.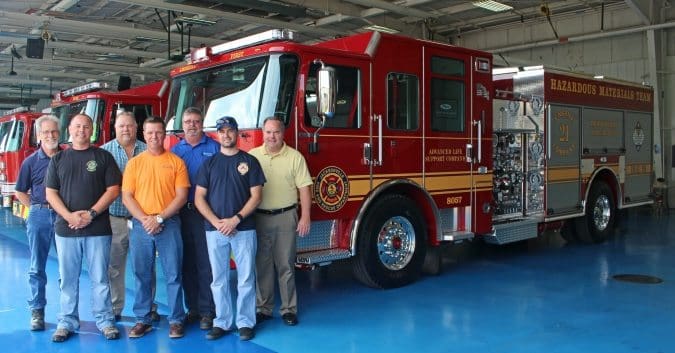 Jim Johnson, President of Pierce Manufacturing, Inc. presented each department personnel with a certificate and personally thanked them for their continued business.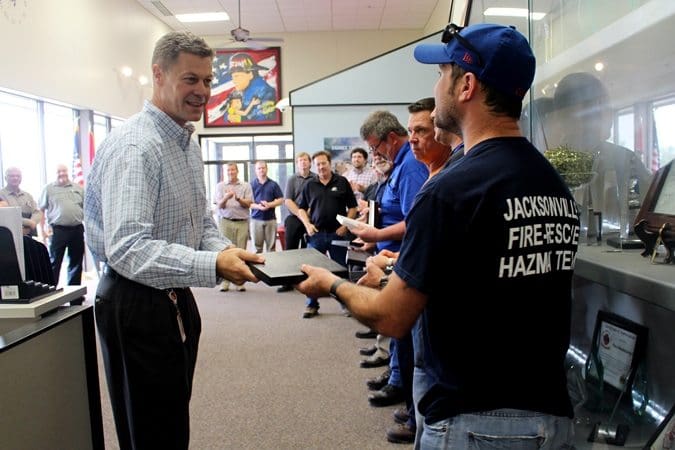 Jacksonville's first Pierce apparatus was a 1988 Pierce Lance 50′ Telesqurt, sold by Don Bouwer, founder and CEO of Ten-8 Fire Equipment, Inc.
Other Jacksonville Fire and Rescue Department Stats:
Firehouses: 62
Firefighters: 1300+
Coverage: 840 sq mi
Protects: 850,000 residents
Last week's run load/call volume:
EMS: 2,219
FIRE: 336
9-1-1 Calls: 2,127
Non-Emergency: 2,733
Ten-8 Fire Equipment along with Pierce, would like to thank Fire Chief Kurtis Wilson and the City of Jacksonville for their business and these latest additions to their Pierce fleet.
Social Share