Ft. Myers Beach, Florida recently purchased three (3) Braun Liberty ambulances. The vehicles are on Ford F450 chassis. These are the first ambulances to join the fleet at Ft. Myers Beach Fire Department. Medical Officer Randy Kraus explained that when making their decision to purchase new emergency vehicles they chose Braun because no other manufacturer offers what Braun does. The warranty, construction, safety features, and ability to totally customize the vehicles were all important features and benefits. Officer Kraus also commented that the availability and experience of Ten-8 Fire and Safety's sales representative, Shawn Hunter was refreshing.
Ft. Myers Beach's unique configuration creates a more reliable vehicle and offers a higher level of safety for both patients and providers. The trend setting action area allows the providers to stay restrained in the action seat and provide patient care while being able to reach all common, as well as critical, equipment and supplies. The features were designed to accommodate the 5th percentile of women and the 95th percentile of men. The elimination of projectiles was achieved with the elimination of cabinets and having secured features for all of the equipment, which helps protect the patient and provider in the case of an accident.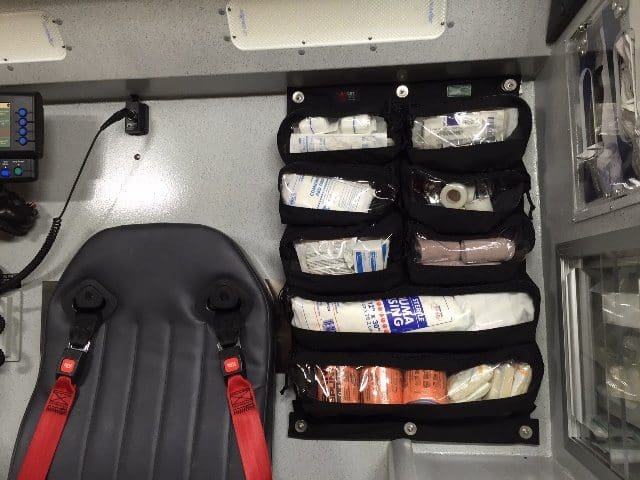 The trucks were ordered with Ferno Military supply bag systems.
The bags are attached to the ambulance wall using Ferno's track mounting concept.
The bags were sized to fit in the customer's specified location.
The bags have expandable pouches to store medical supplies specified by the customer.
The bags can be installed in a semi-permanent, or quick release configuration,  to meet the customers requirement.
These bag systems are one of many options available as part of Ferno's Integrated Patient Transport System (IPTS), which is designed for their military customers.
This Ten-8 customer chose to utilize the military product because the all new Ferno iNTraxx system was not yet available to coincide with the delivery schedule of their ambulance. Ferno anticipates the SAE J3043 compliant iN|TraxxTM system to be released to U.S. customers in January, 2016.
The new Ferno iNTraxx™ Integrated Vehicle Component System™ provides SAE compliant safety for providers and patients, and efficiency that reduces operating costs for agencies. The iNTraxx system has been designed to secure loose equipment inside the ambulance and to allow medics to deliver patient care from a seated, restrained position. This reduces the risk of death and injury during crashes and sudden stops and hard maneuvers. This modular system features wall-mounted tracks that secure a series of SafeMount Equipment Mounts, SafeCab Storage Cabinets, and SafePak Supply Bags. iNTraxx modularity supports better workflows and inventory management which lowers operating costs.
Tim Schroeder answers questions from Reddit AMA about the Ferno iNTraxx Ambulance Component System and the modularity, safety and functionality that the iNTraxx features in the video below.
Social Share