As we gear up to attend the last show of 2015, we stop to reflect on some of the important partnerships we've established and contributions we've made in order to create a difference in the lives of the dedicated and brave individuals in the Fire and EMS industries.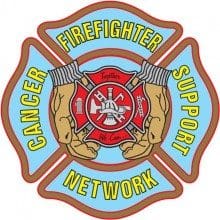 Announcing our partnership with the Firefighter Cancer Support Network (FCSN) earlier this year was one of those moments. Cancer among our friends, families, and colleagues is never news anyone likes to hear. That's why we felt strongly in joining forces with FCSN to support their efforts in researching and making recommendations for changes in the fire industry to prevent as many families as possible from facing this terrible news.
In a show of appreciation, Jenn Glatz, a wife of a firefighter, wrote to Ten-8 to thank us for supporting this education and research. We were humbled to receive her letter of thanks and are grateful that those attending the seminars provided by FCSN are taking preventative measures based on what they learn.
Her letter read:
I want to thank your company and those responsible for sponsoring the paper reprint of the "Taking Action Against Cancer in the Fire Service" documents. My husband is a ten year firefighter and after this seminar, he used its preventative suggestions on a fire call, during and after, to hopefully lessen his exposure and absorption to harmful chemicals and off-gases. As his wife, I thank you for supporting the Firefighter Cancer Support Network. Jenn Glatz
Going forward, we continue to support FCSN and other programs that bring awareness and preventative steps for those in the EMS and fire industry, whether it be in regards to cancer or just for their general safety and well-being on the job. This also applies to the last show we will be attending in 2015: The Safety and Health Conference in Orlando, FL, from December 7-9th.
Ten-8 Fire and Safety will be attending the mini-expo along with sponsoring a conference break. The keynote speaker for the conference will be Michele Gillen, an Investigative reporter from CBS 4, Miami. As featured in the October Issue of Florida Fire Service Today, she will be talking about her in-depth news stories on the tragedies of firefighters battling cancer. She will also dive into some of the results of major studies being done about this issue and what fire departments are doing to reduce those risks.
We look forward to meeting many of you at the conference and we are excited to continue to support events like this. Knowing that attendees are putting the knowledge to good use makes all of the effort and sponsorships worthwhile.
Social Share