Ambulance Remount Services
Superior Remounts from Ten-8 & Southeastern Specialty Vehicles 
Ten-8 Fire Equipment has partnered with Southeastern Specialty Vehicles to offer ambulance remount services. With over 16 years of experience in the remount business, SSV is focused on quick turnaround and a superior finished product. When finished, you will feel like you're driving around in a new ambulance.
Today, many ambulance modules outlive their chassis. Most modular bodies come with a 15 year to lifetime warranty; a chassis warranty is substantially less. Rather than abandon your existing box for an entirely new ambulance, you can save a significant amount of money and protect your original investment by remounting your emergency vehicle. In fact, you can save 30-50% of the cost of a new unit – that translates to $20,000 – $50,000 in savings!
Remount Your Ambulance Through Ten-8 & SSV
Southeastern Specialty Vehicles is a Ford QVM certified ambulance remount facility. This assures you that all procedures issued by Ford to be a certified remount facility are being met or exceeded. As part of this certification, SSV also carries a $5 million product liability insurance.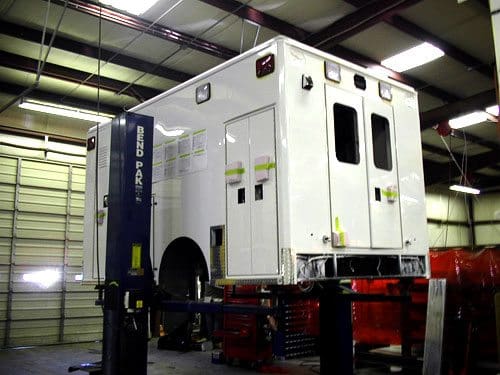 In addition to being part of the Ford QVM Ambulance Program, SSV is a member of the National Truck Equipment Association (NTEA) and Ambulance Manufacturer's Division (AMD). They operate within the strict provisions of the Department of Transportation (DOT), Federal Motor Vehicle Safety Standards (FMVSS), and federal KKK-A-1822 specifications.
Benefits of Remounting with SSV & Ten-8
3-Year/Unlimited Miles Conversion Warranty
5-Year PPG Paint Warranty Non-Pro Rated
6-Year/Unlimited Miles Electrical Warranty
100% Financing Packages
Leasing Programs
EVT Certified Technicians
Ten-8 Service After The Sale
We can remount your ambulance on a Ford, Chevy, Dodge, Kenworth, International, or Freightliner chassis. The remount process begins 60 days after receipt of the chassis. You have the option to convert a Type I unit to a Type III, and vice versa. In addition, we can tackle ambulance refurbishment, painting, and electrical work at the same time.
We have chosen to partner with Southeastern Specialty Vehicles because they offer the best ambulance remount services in the industry. Their dedication to customer satisfaction and and service after the sale coincides with Ten-8's mission and values. If you are interested in learning more about an ambulance remount call us today at 877-989-7660 to request a quote.