Braun Ambulances
Braun Industries, Inc., designs custom-handcrafted ambulances with premium quality. With more than 45 years of manufacturing experiece, Braun has continually evolved the safety and funcationality of its ambualnces.
Why Invest in a Braun Ambulance
Braun ambulances are unique because of their SolidBody™ Construction, a process which eliminates a separate extruded frame. All Braun body components are built into one integrated module. Produced with .125" flat-sheet marine grade aluminum, the floor, roof, sides and doors are all constructed from brake formed parts with fully welded seams. This construction process reduces weight and adds exceptional strength.
With more than seven models to chose from and countless customization options, departments can design ambulances that fit their needs.
The Braun Experience
When purchasing a Braun ambulance from Ten-8, the purhcasing department will attend a pre-construction meeting at Braun. This allows the customers a behind-the-scenes look at the manufacturing facility, as well as an opportunity to sit down with Braun engineers to finalize a design. The result is a set of very detailed concept drawings and an itemized quotation that solidifies Braun's expertise as a leader in the ambulance market. Finished vehicles also come with as built electrical schematics and a parts bill of materials for easy maintenance and repair.
Ambulance Models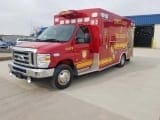 Chief XL
This model provides the optimum in room, storage, and comfort. Built on your choice of the Ford E- or F-450, Chevy G-4500, International TerraStar or Ram D-4500 chassis, you get a powerful vehicle with one of the highest usable payloads in the industry. The Chief XL SolidBody™ Construction boasts headroom height of 72" while taking advantage of the module's 169" length by providing maximum storage both inside and out. Available in the standard package or customized to meet your specific requirements, the Chief XL provides value, comfort, and safety for the patient and crew.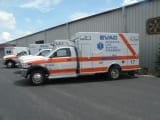 Express
Since its introduction, the Express has earned a solid reputation as a workhorse ambulance among many private and municipal EMS fleet managers. Reduced downtime, fewer maintenance costs, and increased reliability have helped win over owners and fleet service personnel alike. The Express provides Braun's exclusive EZ Glide™ Sliding Door, Eberhard Free Floating Latches, MasterTech™ Multiplex Electrical Control System, and our exclusive VitalMax™ Lighting System, a wider aisle for more working space, external backboard storage, and increased interior cabinets, combined with SolidBody™ Construction. The Express is winning high praise not only from the people that work on them, but from those that work in them – paramedics and EMTs.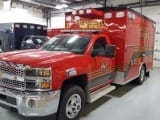 Express Plus
The Express Plus is a 150″ module will full customization options. The Type I configuration is available on several chassis platforms, including the Ford F-350 with no air ride, the Ford F-450 with air ride or Liquid Springs, and the Ram 4500 with air ride or Liquid Springs. With 72″ of headroom, this ambulance offers plenty of storage space inside and out.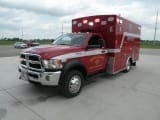 Liberty
The Liberty is a focus unit that allows you to select the options that are the most important to your department personnel. This unit is built on multiple-chassis platforms allowing flexibility to utilize Ford or Ram, with diesel or gas engine options in a Type I or Type III model. The 156" module shares the same Braun quality as the larger units in our product line up while maintaining the highest safety standards in the industry.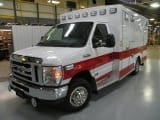 Signature Series
The Phil Braun Signature Series is a 150" model that meets the high demands of the EMS community! This highly acclaimed emergency vehicle won the 2012 EMS World Innovation Award and was named an EMS Today 2012 Hot Product. Phil Braun stated that "Quality isn't cheap, but it should be affordable!" The Signature Series is a direct result of customer requests and has been pre-engineered and pre-configured with these requests at an economical price.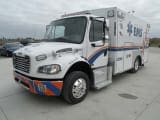 Super Chief
This rugged heavy duty 170" Type I ambulance is specifically designed to carry more equipment and handle the high demands that are placed on it. The Super Chief is the premier ambulance in the industry, offering a large roomy interior with over 73 inches of headroom and additional storage areas to house all your equipment. A wide choice of colors and materials allow each customer to customize the patient compartment. Many features like our VitalMax™ Lighting System, acrylic countertops and slide-out writing table make patient care easier. Standard features included in the Super Chief are the EZ Glide™ Sliding Door, Eberhard Free Floating Latches and our MasterTech™ Multiplex Electrical Control System.