We Specialize in MSA Equipment Service
Self-Contained Breathing Apparatus Maintenance and Repair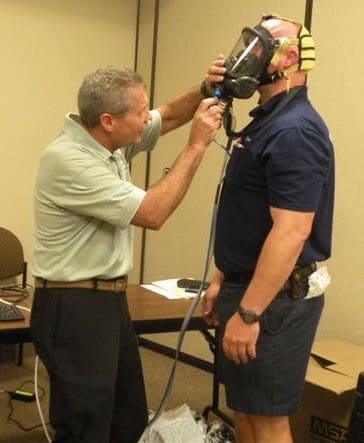 For over 28 years, we've been the sole supplier of MSA breathing apparatus and accessories in Florida. While it is important for us to offer our customers the best in new fire equipment sales, it is also critical we help them maintain their apparatus through our equipment service offerings. To that end, we are an MSA C.A.R.E. (Certified Airmask Repair Education) Authorized Repair Center.
All Ten-8 technicians are MSA SAR Certified and authorized to perform all test and repair procedures for all G1 SCBA, FireHawk MMR, MMR Dual-purpose, M7 MMR, M7 Responder SCBAs, Airhawk II SCBA, and PremAire Cadet Escape Respirators.
Our main service center is located in Bradenton, Florida. There, our dedicated service staff has over 25 years of experience in breathing apparatus maintenance. We provide on-site flow testing, maintenance, and training. We test over 5,000 SCBAs annually and comply with NFPA 1852: Standard on Selection, Care, and Maintenance of Open-Circuit SCBA. Our support team is available 24/7 to assist you, so contact us today with all of your SCBA equipment service needs.
Caring For Your Portable Instrumentation
Ten-8 is also an MSA R.I.T.E. (Repairing Instruments Training & Education) Authorized Repair Center. Our facility is authorized to perform repairs, service, maintenance, and calibration on select portable gas instruments. All of our technicians are MSA R.I.T.E. certified as well, which means they have manufacturer level training to properly handle your equipment and protect your investment.
We are also an authorized service center for MSA's CBRNE SafeSite Multi-Threat Detection System, an advanced detection system that identifies chemical, gas, radiation, and other hazard-inducing conditions.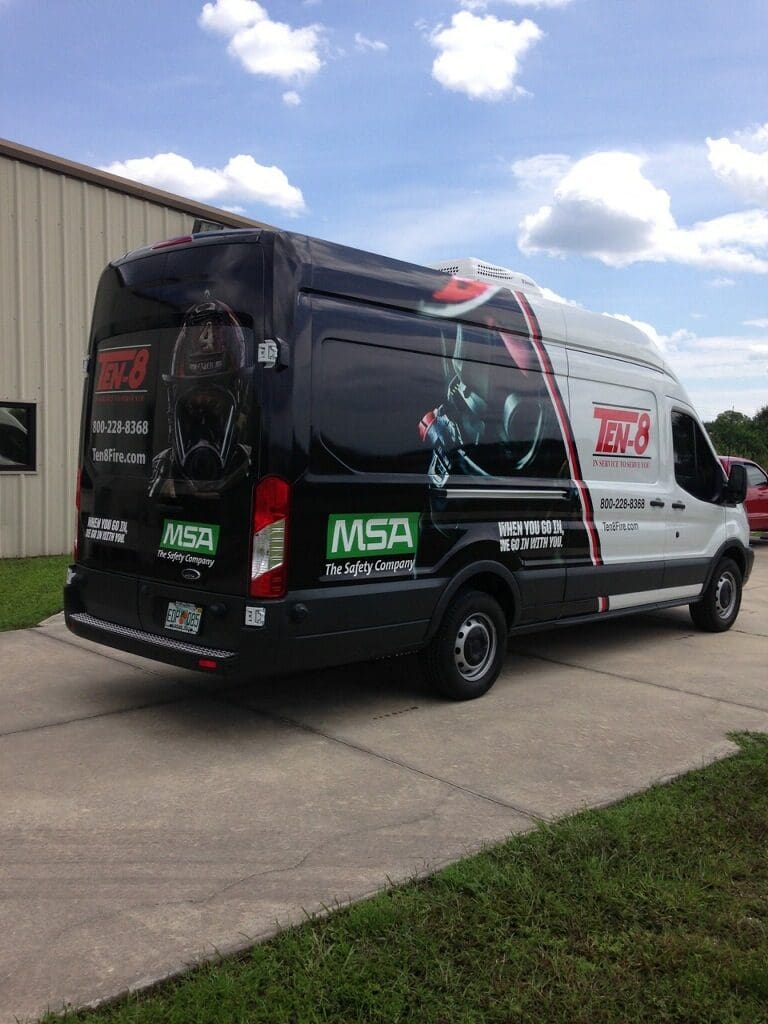 Experience In Equipment Service You Can Trust
Whether we complete the work in-house, or partner with our vendors to get the repairs done, your equipment is in good hands with Ten-8. Our Equipment Service department is comprised of 7 in-house technicians and 3 mobile technicians. Our mobile service gives you the convenience of keeping your equipment at your facility, and the expertise of our knowledgeable technicians to assist you with maintenance and repairs.
Our experience serving customers over the years and our close relationship with MSA allows us to offer our customers a level of expertise that is unparalleled in the region. Our strict adherence to standards, continual education and certifications, and annual equipment calibration ensure your equipment is in good hands. As our motto says, we are "In Service To Serve You," and this is just as important to our equipment customers as it is to apparatus.
If you are in need of fire equipment maintenance or repair, contact us to schedule a service appointment. Our Equipment Service division in Bradenton, FL is open Monday through Friday from 8:00 am to 5:00 pm EST to serve you.