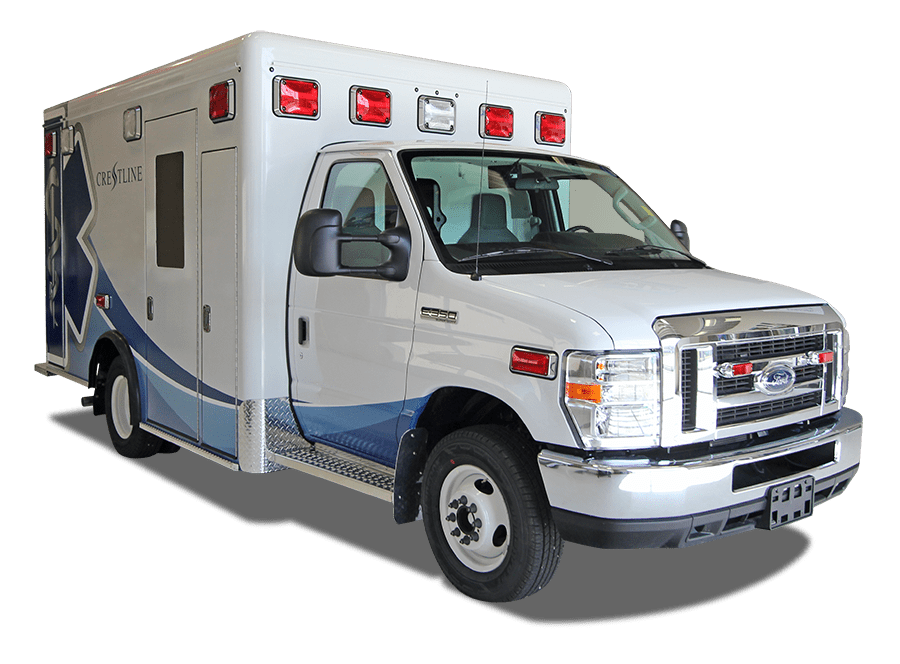 The CCL 150 – Type III
Designed for quick delivery and volume orders, the CCL 150 Type III ambulance is an ideal choice for private organizations. The CCL 150 is also an ideal choice for fire departments and EMS agencies looking for community paramedicine vehicles or special events vehicles that are value-driven and safety-focused.
The ambulance's ergonomic design and standardization features create a familiar environment for EMS professionals of all kinds. The CCL 150 is easy to maintain and remount, making it a preferred choice for fleet operators as well. The CCL 150 Type III model is available on a Ford E350 or Chevrolet G3500 chassis.
Why Choose the CCL 150 Type III?
Factory backed Lifetime Paint Warranty
Multiplex Electrical System as standard feature
Built to last with increased durability and reliability, lowering cost of ownership
Designed for quick delivery and volume orders
Standardization for numerous systems creating a familiar environment for EMS professionals and ease of maintenance for Fleet Operators
Easy to maintain and remount
Benefits of the CCL 150 Type III
Aluminum Extruded Body Construction
The box is 150" long x 96" wide with 68" standard interior headroom. There is also an option for 72" interior headroom. Among the many benefits, the module construction promotes safety, aerodynamics, and offers an efficient remount process. It comes with a Lifetime Structural Warranty. It is fully certified to meet or exceed KKK-A-1822F and GVS V2.0 standards, including GVS V2.0 remountable standards.
Aluminum Cabinets
Highly durable and long-lasting, aluminum cabinets reduce overall weight and feature SAE compliant hardware.
Dual Entry Step
Offering safer and easier access, the first step is low to the ground and includes no moving parts that would complicate a repair process.
Rear Bumper Design
The under body layout eliminates damage to the module if the bumper is impacted, reducing downtime for repair. An additional kick-plate also protects the body from impact damage and road debris, providing an additional safeguard and reducing corrosion.
CrestClean
This antimicrobial coating prevents and protects all interior surfaces from growth of bacteria and destructive microorganisms, a critical feature in enhancing the safety for patients and EMS professionals.
CrestCoat Powder Coating Technology
This environmentally friendly finishing process offers durability. Interior compartments, exterior compartments, and the module are all powder coated with a lifetime paint warranty. Exterior paint color options include white and red.
Multiplex Electrical System
The robust multiplex system is proven to reduce downtime, lower repair costs, support remote diagnostics, and enhance preventative maintenance. It is a favorite among fleet operators for ease of use!
Flush Mount Windows
Automotive style windows improve visibility, resist corrosion, lower repair costs, and help prevent leaks.
4" Radius Corners
These were added to improve aerodynamics, increase fuel efficiency, and enhance handling.
O2 To Go
This effortless oxygen cylinder lift and storage system allows the safe and effective transport of O2, while helping to reduce back injuries.
Remount Advantage
The CCL 150 module can be remounted on a new chassis to extend the life of the box while saving thousands over purchasing a new unit. The Lifetime Structural Warranty applies to remounts as well.