Company Overview of Ten-8 Fire and Safety
"In Service to Serve You"
Ten-8 Fire and Safety, LLC is a major United States distributor of fire and emergency apparatus and equipment. Focused on serving customers in Florida and Georgia, our knowledgeable staff of sales, service, and support personnel is comprised of over 170 employees. For more than 30 years, we have worked hard to improve our business and expand our customer base, continually investing in our personnel and facilities. Operating out of seven service locations, we strive to make our service experience second to none!
The Region's Premier Provider
As the region's premier provider to the Fire & EMS Industry, we represent only the best brands out there. Among these are Pierce fire apparatus, Braun ambulances, Osage ambulances, MSA firefighting equipment, Globe turnout gear, TNT Rescue extraction tools, Key Hose fire hoses, and Task Force Tips firefighting equipment. These companies manufacture items such as fire hose and fittings, turn out gear, hand tools, scene lighting equipment, hydraulic rescue equipment, breathing air apparatus, fire trucks, and ambulances – anything and everything our customers might need, available from one local dealer.
A Commitment to Honesty, Fairness, and Reliability
We take the ideals set forth in our Mission, Vision, and Values to heart each and every day.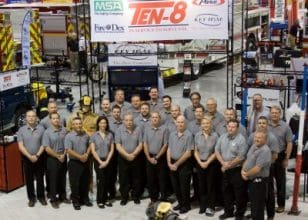 Our Mission, as dedicated professionals, is to serve the Fire & Safety Community with integrity by offering outstanding products and exceptional service.
Our Value Statement:
Reliable
Accountable
Professional,
Integrity
Dedicated

Ten-8's family of employees is committed to these core values while responding to customer needs.
Our Vision is for Ten-8 to be the premier service provider to the fire and emergency industry. Market growth will be achieved by providing the highest quality products through the most knowledgeable and professional sales force. Ten-8 will create a work environment that fosters employee growth, development, and opportunity.
If you'd like more information about working with Ten-8, contact us today.