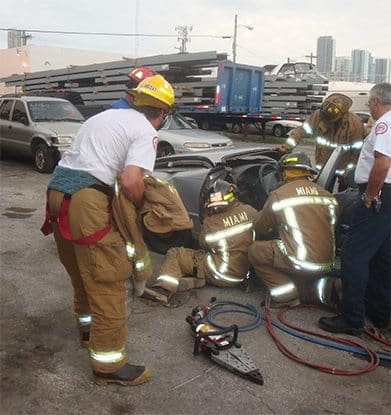 The Best Extrication Tools
Since 2010, Ten-8 has been selling TNT hydraulic rescue tools in Georgia and Florida. Wanting to partner with a company Made in the U.S.A. with competitive pricing, TNT Rescue is well known for having the best extrication tools in the industry, with the best warranty to back them up. Family-owned in Wisconsin, TNT Rescue stands behind their products—and so do we. Our knowledgeable service technicians are re-certified every two years, and semi-annual and annual meetings keep our sales team up-to-date with current products, trends, and changes.
TNT Rescue Products
TNT Rescue manufactures hydraulic rescue tools for extrication including:
Pumps
Cutters / Combi's
Spreaders
Rams
Products for confined spaces
Accessories
Their hydraulic rescue tools are built for either high pressure situations (10,500 PSI) or low pressure situations (5,500 PSI), and designed and manufactured with the highest quality. TNT's hydraulic rescue tools can be found on Tactical Fire Fighting Trucks (TFFT) by Pierce around the world.
Our Service & Warranty Partnership with Southern Rescue Tools
When it comes to servicing your TNT hydraulic rescue tools, we have partnered with Southern Rescue Tools. Southern Rescue Tools was an established partner with TNT when we began selling their products. In order to offer customers the best ongoing service support, we teamed up with Southern Rescue Tools to leverage their expertise. They offer 24 hour service repairs from local factory certified repair personnel, and our team at Ten-8 will facilitate all service requests on our customers' behalf. In addition, the Lifetime Warranty on a TNT Rescue tool means you will never pay for the parts on a tool, except in cases with deliberate abuse.
Contact us today to request a quote or call 877-989-7660 to let our knowledgeable sales representatives help you properly scope and price out your next extrication tool purchase.